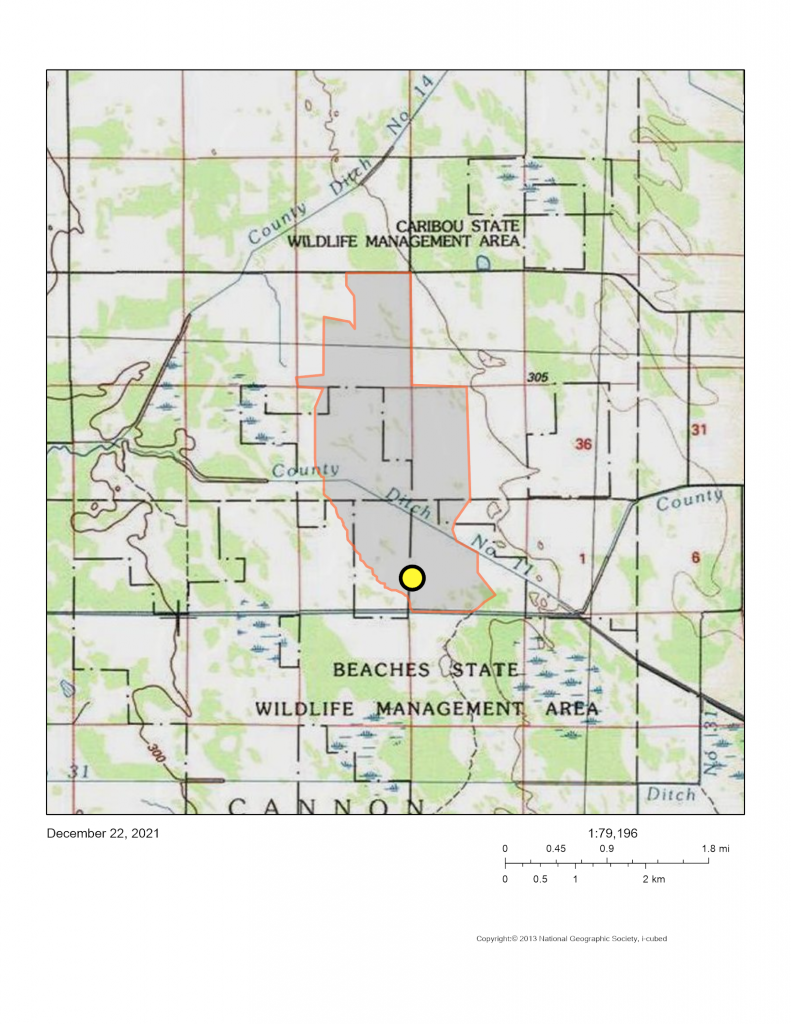 Size: 1936 acres
Detected: October 5, 2021
Location: Kittson County – East of Lancaster, Minn.
Incident Management Team: MNICS Team A, Ernest Schmitt, Incident Commander
Cooperating agencies:  Minnesota Department of Natural Resources, U.S. Forest Service and mutual aid from Lake Bronson, Lancaster, Greenbush, and Hallock Fire Departments
Late in the afternoon on October 5, a wildfire was detected east of Lancaster, Minn., within the Beaches Lake Wildlife Management Area. Dry conditions resulting from extreme drought along with steady winds contributed to rapid fire growth through grass, brush, timber, and marshland. The fire advanced north toward Kittson County Highway 4, nearing the U.S. -Canada border. A successful firing operation was conducted by the local fire departments that helped reduce the available fuel between the flame front and Highway 4. As a result, the fire was held south of the highway.
Helicopters were brought in during the initial attack to help cool and slow the fire's progression. Fire crews from DNR and local volunteer fire departments continued to work throughout the night to establish a control line around the fire perimeter.
Fire crews immediately began mopping up brush, branches, and stumps that continue holding heat along the fire perimeter. Working with tracked vehicles, fire crews were able to bring water to the interior of the fire to mix the water with peat soil that continued to hold heat. Heavy equipment, including dozers and tracked vehicles, was used to establish, and secure a containment line around the fire's perimeter.
DNR requested a MNICS Type 3 Team to take over the fire management. MNICS Team A, led by Incident Commander Ernie Schmitt, assumed management of the fire on October 8.
More than an inch and a half of rain fell over the fire, and calmer, cooler weather conditions followed, greatly reduced the fire's activity and increasing containment. MNCIS Team A transitioned management of the fire to the local DNR area forestry fire personnel on October 13. The Beaches Lake fire has thus far been the final wildfire assignment for the MNICS Type 3 Teams.
October 8, 2021, firefighting crews work to saturate peat soil holding heat with water on Beaches Lake fire.

Aerial view of the burned over area of the Beaches Lake fire.

October 6, 2021, an aerial view of the Beaches Lake burned area after the initial attack.

October 8, 2021, heavy equipment is used to mix peat soil with bare mineral soil on the Beaches Lake fire.