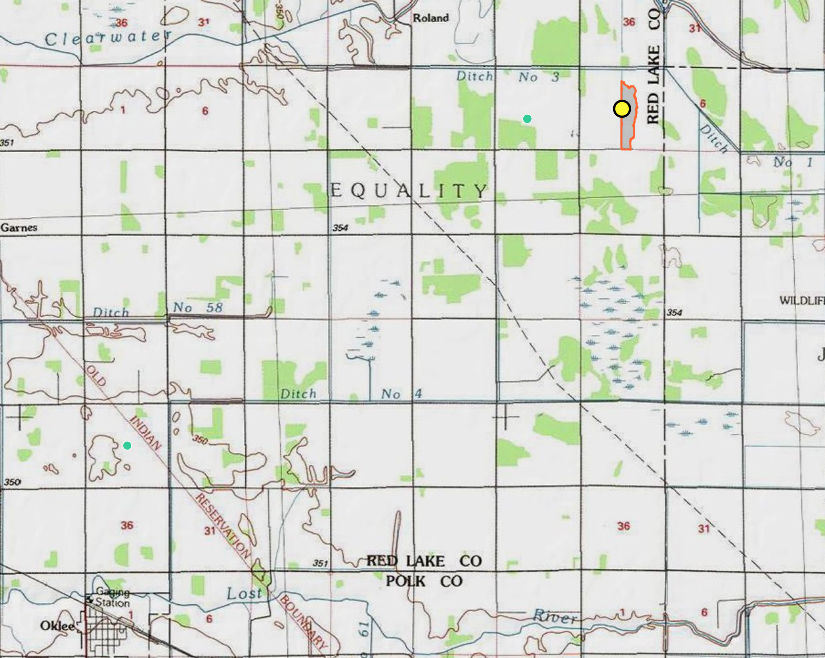 Size: 74 acres
Detected: August 7, 2021
Location: 9 miles northeast of Oklee, MN
Incident Managment Team: Great Basin Regional Incident Management Team
Cooperating Agencies: Minnesota DNR
The Crane Fire was reported on August 7, about 9 miles northeast of Oklee, Minnesota. It smoldered in two to four-foot-deep peat, allowing the fire to burn down and out underneath the surface. Fire suppression with extreme drought conditions and peat soil was challenging. The Type 3 Great Basin Region Incident Management Team from Nevada, prepositioned in Minnesota, was assigned to manage the fire on August 9, 2021.
Much of the firefighting was completed by excavators and dozers digging down to bare mineral soil to prevent the peat fire from spreading further underground. In addition to the heavy equipment, a 20-person hand crew and firefighting personnel assigned to engines and tracked vehicles worked on cooling smoldering hotspots along the fire's perimeter with pumps and water. The windy, dry conditions created challenges with dust devils carrying smoldering material leading to a one-acre spot fire outside the fire perimeter. Ground crews responded quickly to suppress the spot fire. In addition to the ground suppression efforts, a Single Engine Air Tanker provided retardant drops onto adjacent fields, which helped prevent falling embers from igniting any additional spot fires.