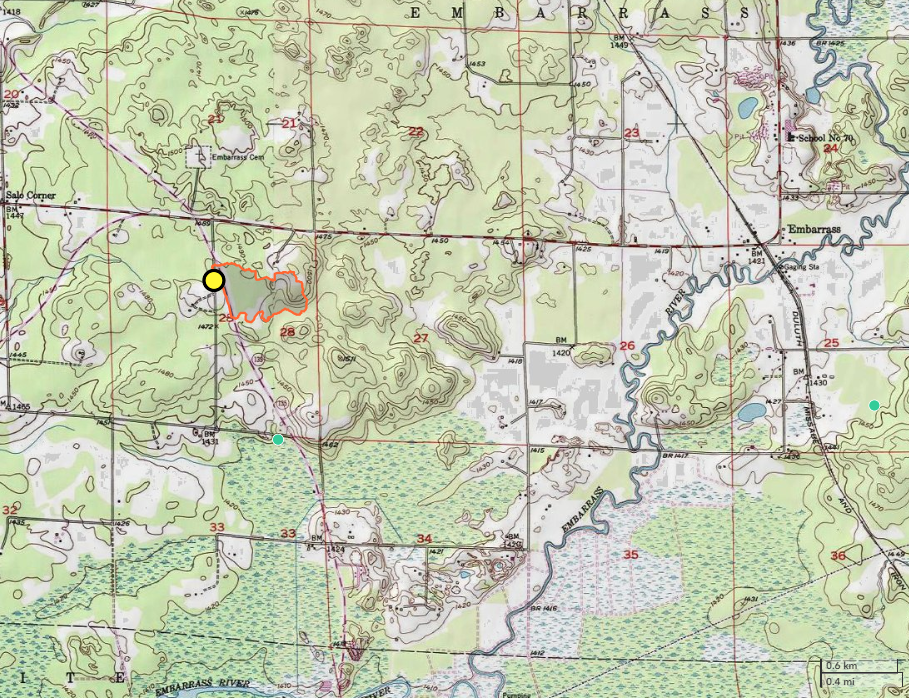 Size: 60 acres
Detected: June 18, 2021
Location: 2.5 miles west of Embarrass, Minn., in the Four Corners area
Incident Management Team: MNICS Type 3 Team C Team, Incident Commander Jim Edgar
Cooperating agencies: Minnesota DNR, U.S. Forest Service, Tower Ambulance, Embarrass Volunteer Fire Department
On June 18 a wildfire was detected near the Four Corners area of Embarrass, Minn. Due to extreme fire weather with high winds and low humidity, the fire quickly spread through 60 acres of pine, balsam understory, and areas of blowdown. The cause of the fire was determined to be a result of a powerline.
Crews from the Minnesota DNR, U.S. Forest Service, Embarrass Volunteer Fire Department and Pike-Sandy-Britt Regional Volunteer Fire Department responded to the initial attack. During the afternoon, four Fire Bosses, two CL-415 water-scooping airplanes, and two CL-215s conducted several aerial water-drop cycles. Two helicopters were able to provide bucket drops. The Minnesota DNR requested a MNICS Type 3 Incident Management Team to assume command.
The fire received some precipitation during the evening hours, which helped moderate fire activity. By 7:00 pm, dozers had constructed line around the entire fire perimeter. One engine remained on scene overnight to monitor fire activity.
MNICS Team C, led be Incident Commander Jim Edgar, assumed management of the fire on July 19. Fire crews began mop-up operations, extinguishing and removing burning material along the control line, as a track vehicle and an engine patrolled the fire's edge. Gusty winds continued to be a concern over the next couple of days, as crews continued mop-up efforts focusing on felling high-risk snags as they were encountered. By the end of shift on July 21, the fire was 90 percent contained. MNICS Team C turned the command of the Rahkola Road fire over to the Tower DNR Area Forestry on June 23.