2023 MNICS Meeting
The MNICS Annual Meeting is an interagency information session that brings together all levels of the MNICS partnership experience. The meeting strengthens coordination efforts involved with wildfire suppression and prevention among all the partnering agencies. It is a great opportunity to network, share information and discuss new ideas. There really is no better place than the MNICS Meeting to reflect on a job well done, share experiences and lessons learned, and recognize all of the success that has occurred throughout the 2023 wildfire season. We'll look forward to seeing you at the next MNICS Meeting. Dates to be announced toward the end of the 2023 fire season.
MNICS Meeting Agenda
Meeting Agenda under development
MNICS Meeting Guest Speaker Bios
MNICS Annual Report
MNICS Awards
Congratulations to our 2022 MNICS Award Recipients
Legacy Award – Tom Staydohar
Leadership Award – Robert "BJ" Gotchie Jr.
Retirements – Mike Beaulieu, Kurt Fogelberg, Don Green, Rob Heavirland, Bill Lauer, Todd Vogelgesang
Recognizing the strengths and contributions from outstanding performance, great leadership, and incredible teamwork, from our fellow MNICS community members or MNICS Teams and partners is a part of our annual tradition. Thank you to all who submitted nominations this year, we look forward to recognizing those who went the extra mile this year during the annual meeting.
Interested in Joining a MNICS Working Team? MNICS Working Teams meet through out the year to talk about current events, solve problems, and plan for workforce development events, infrastructure, and technology. The Working Teams are responsible for coordinating interagency support on tasks and projects throughout the year, and are an essential part to the everyday mission and success of MNICS. If you have an interest in becoming a member of a MNICS Working Team, contact your MNICS Task Force member for more information.
Why attend the MNICS meeting?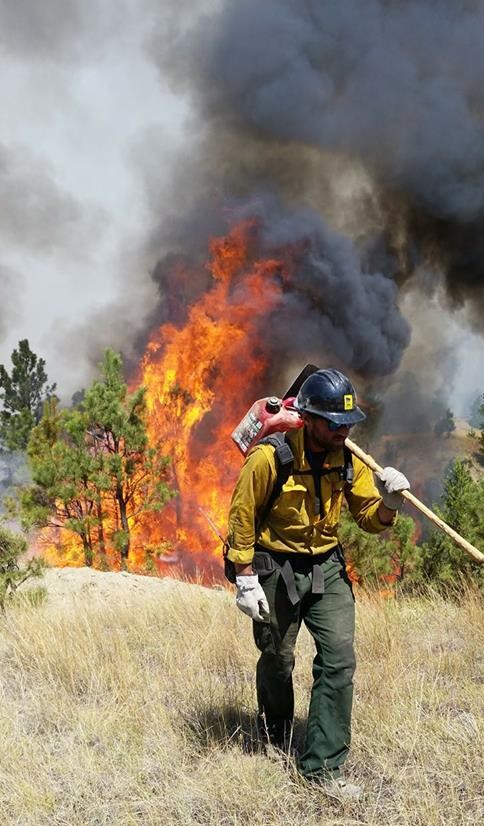 Contribute your ideas – Whether on the line or behind the scenes makes a difference Minnesota's wildland fire community.
The MNICS meeting is an opporutnity for you to join a working team discussion, and share ideas that help set the course of direction in your area of interest.
Participate in general group sessions – Designed with broader topics focused on the MNICS organization and areas of interest impacting wildland firefighting today that help strengthen the MNICS organization, promote the mission and foster interagency relationships.
Network with wildland fire mentors – The MNICS meeting is a great way to align yourself with agency subject matter experts and leaders who can help guide you toward greater involvement with wildland fire and all-hazard emergency management in Minnesota and around the country.